2016 JSU Marching Ballerinas Interest Meeting Set for March 9
2016 JSU Marching Ballerinas Interest Meeting Set for March 9
01/25/2016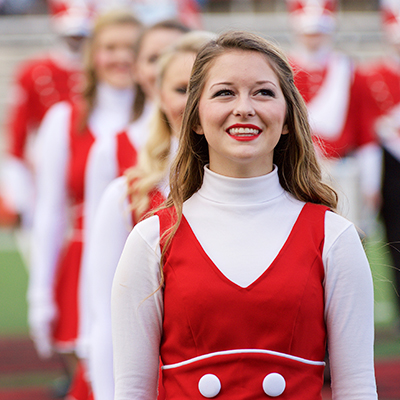 The 2016 Marching Ballerinas line is forming soon. (Steve Latham/JSU)
From their Santa suits to their tasseled boots, Jacksonville State University's Marching Ballerinas are a time-honored tradition. On March 9, if you are currently attending or have been accepted to JSU, you can take your first step toward being part of this elite group at the 2016 Marching Ballerinas audition interest meeting! The meeting will begin at 7 p.m. in the Mason Hall Performance Center. Parents are welcome to attend, as well.
The Marching Ballerinas audition clinic will be April 2-3 in Pete Mathews Coliseum. Final auditions will be April 9 at Pete Mathews Coliseum.  Ballerina hopefuls must attend both weekends. All potential Ballerinas must be accepted to or attending JSU by the first day of clinics.
For more information, visit the Marching Ballerinas website or email Noelle Stovall.