Gamecocks to Face Tennessee State in Home Opener Sept. 19
Gamecocks to Face Tennessee State in Home Opener Sept. 19
09/17/2015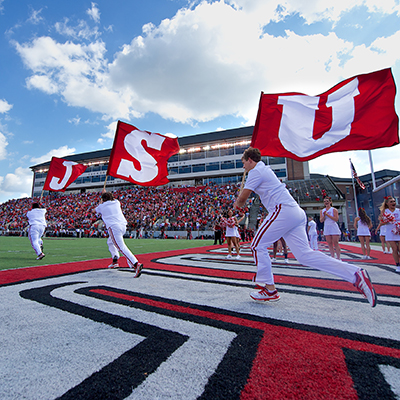 The Jacksonville State University Gamecocks will play their home opener vs. the Tennessee State Tigers on Saturday, Sept. 19 at 1 p.m. CDT on Burgess-Snow Field at JSU Stadium.
It promises to be a great day of football and music, as it is also Band Day. More than 1,700 high school band students will be our special guests along with the Tennessee State Aristocrat of Bands. The Marching Southerners and Ballerinas will perform their 2015 show "Celebration" to round out a day of great music.
It's also Red Out Day. All fans are encouraged to wear red, be loud and proud for the television audience watching the game on ESPN3.
We hope you'll join us as we Cage the Tigers! Go, Gamecocks!
Game Day Details
Gamecock Suites open at 11 a.m. (Stadium Tower)
Club Level opens at 11 a.m. (Stadium Tower)
Ticket Booths and Stadium Gates open at 11 a.m.
Tickets are also available all week at the JSU Campus Bookstore and the JSU Off-Campus Bookstore!
Purchase Tickets Online Here (Print at Home)
TV:  ESPN3
RADIO: WLJS 91.9, WVOK 97.7, WKXX  102.9
LIVE STATS LINK
Game Day Ticket Sales
JSU Stadium Ticket Booths and Gates will open two hours before kickoff (11 a.m. this week). Tickets are available at three ticket booths at the stadium. Ticket Booth A is located on the main plaza facing Mountain Avenue on the SOUTH side of the Stadium. Ticket Booth C is located behind on the NORTH side of the stadium near the OLD press box, and Ticket Booth D is located near the football field house on the press box side of the Stadium. Ticket Booth E is the Student Gate and is located near Dillon Field. Fans can also order tickets ONLINE and PRINT AT HOME by visiting www.JSUGamecockSports.com/tickets
 
Tailgating Information
Headed to campus for the big game? Make a day of it and join us for tailgating at the Roost! Located in the grassy field east of Kennamer Hall, the Roost is a designated tailgating area that takes some of the work out of your game day gathering. For $25, reserve a spot in the red tailgate area that includes use of a tent and table and one parking space. Also available for $25 are spaces in the black tailgate area. No tent or table is included in the black area, but this space includes one parking space. Reserve your spot in either the red or black areas for all five home games for $100. Tailgate area hours are from 7:30 a.m. – 8 p.m. on game day. To reserve your spot, call Twyla Hobbs at 256-782-5557. The Student Tailgating Lot is Dillon Field, located off Forney Avenue near the Football Field House. Students should contact the Office of Student Life, ext. 5491, for a designated student tailgate area spot.
 
Stadium Suite Holders and Club Level Parking
The parking lot in front of the Stadium Tower is a NUMBERED reserved lot for patrons of the Stadium Club Level and Suite Holders. Each parking permit is numbered and patrons should park in their designated numbered parking spot. This lot opens four hours before kickoff. If you have not received your parking permit, please call 256-782-8499.
 
Gamecock Walk
The JSU Football Team will be walking from the front of Dorm Stadium Towers to the Football Field House at approximately 10:45 a.m. between the Dorm Stadium Towers and Dillon Field of each game.  Make plans to come and show your school spirit and welcome the players as they make their way to the Gamecock Football Field House.
 
Stadium Shuttle Service
During Jacksonville State home football games, a game day shuttle service has been established to shuttle guests from the Houston Cole Library parking lot to two specific drop off points near JSU Stadium. This service will begin two (2) hours prior to the game and continue until one (1) hour following the game.
 
Stadium Prohibited Items
Jacksonville State University is a weapons free campus. No firearms or other dangerous weapons will be allowed inside JSU Stadium. In addition, umbrellas, backpacks, recording devices, artificial noisemakers, food/beverage containers, bottles, weapons, and alcoholic beverages are not allowed inside JSU Stadium. Event staff and security personnel will conduct bag searches at each gate prior to entry.
 
JSU Campus Food Options
10:30 a.m.-2 p.m./4:30 p.m.-7 p.m.:     
Hopper Dining Hall open for Continuous Serving (JSU Quad)
10 a.m. – 6 p.m.:
JSU Food Court open (Theron Montgomery Building)
12 p.m. – 7 p.m.:
WOW Wingery Open (JSU Quad)
Gates Open thru 4th Quarter:
Concession Stands at Stadium
 
Parking for Individuals with Disabilities
Accessible parking is available in the Stephenson Hall Parking Lot, which is a paid lot and opens at 9 am on game days.  A shuttle cart is available from that location and will take fans to the Stadium beginning one hour prior to kickoff.  Free accessible parking is also available in the Houston Cole Parking Lot where guests can utilize accessible Gamecock Shuttle buses.  There are a limited number of reserved accessible parking passes available through the JSU Athletic Ticket Office on a game by game basis, but they must be purchased in advance of game day.
Post Game Traffic
University Police will assist in traffic flow off the Jacksonville State University campus.