JSU Forensics Provides Leadership Training to Outstanding Etowah Teens
JSU Forensics Provides Leadership Training to Outstanding Etowah Teens
06/22/2015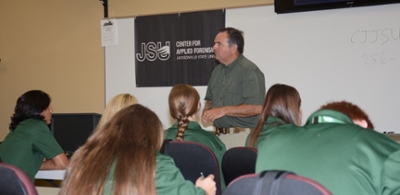 By Heather Greene
Last week, 22 rising high school seniors were awarded college credit by JSU for their participation in the annual Etowah County Sheriff's Office Student Leadership Academy.
In order to be selected for the program, each participant had to meet academy requirements and be evaluated based on demonstrated leadership, physical fitness, grade point average and community service. In this unique partnership, JSU provides the accredited hours at no cost to the sheriff's office or the students. While JSU certainly hopes to see the students return after graduation, should they choose a different college or career path, the college credit is transferable to another institution but is also useful should they study something besides criminal justice at JSU.
At the beginning of the program, the students spent a day at the JSU Center for Applied Forensics at the McClellan Center.
"They were provided with the chance to develop latent fingerprints, perform presumptive tests for the presence of blood and determine bullet trajectories using lasers," explained Mark Hopwood, senior forensic scientist at JSU. "Our goal was to introduce them to the various types of evidence encountered at crime scenes and the different ways of documenting and collecting items of evidence. Hopefully, they left with the understanding that crime scenes are never the same and you have to think on your feet when deciding how to sample or collect an item. The ability to apply knowledge gained from the classroom and to pull from past experiences working are essential to successfully collect the evidence that will be of probative value."
During the week, students had the opportunity to observe each aspect of the daily routine of the sheriff's office and special operations, as well as gain an overview of the American criminal justice system. Guest speakers from various professional disciplines also challenged participants to set high personal goals for their life, school, career, and community leadership.
Whether these students choose a career in criminal justice or not, the knowledge that they gain during this program will benefit them for life.
Hopwood stated, "We offer an educational experience that no one else in the area is offering.  Regardless of whether they pursue a degree in the forensics concentration, the skills to think analytically that are required in forensics are also applicable to other concentrations.  For example, accounting and nursing require attention to detail and looking for that piece of the puzzle that discovers where the money went or leads a medical team to make a correct diagnosis."
On the final day, an annual remembrance service was held at the Etowah County Law Enforcement Memorial, which serves as a stark reminder to the students of the dangers one takes on when choosing the law enforcement life. The 2015 SLA class led a candlelight tribute to all Etowah County police officers who lost their lives in the line of duty. Bailey Cook, Gadsden City High School, and Georgia Mills, Coosa Christian High School, called out the officers' names, dating back to the early 19th century.
Following the memorial, the week culminated in dinner and a graduation ceremony at the Pitman Theater in downtown Gadsden.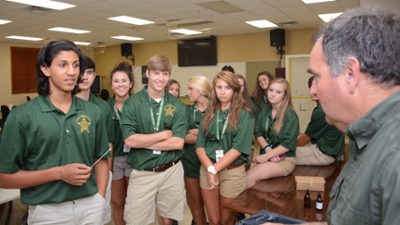 Alexandria Hallmark, a senior at West End High School, stated, "I only thought I had respect for officers until I saw what they did. And then it was not only for the things that I see but I respect the things that people don't see. Also, the class for JSU was just incredible. So I am definitely taking away a new expansion of knowledge that I didn't have before." 
Hallmark said she is definitely keeping JSU on the top of her potential college choices and hopes to one day become a professor.
On the subject of his experience in the program, Gaston High School senior Taylor Tindall said, "It was great! I want to do something in law enforcement…We got to go on patrol, and that was pretty great. We got to go out and see what it was really like in the field."
In the future, Tindall sees himself working in a bigger city police department or in federal law enforcement.
The following schools/students participated in the program:
Coosa Christian – Georgia Mills and Jeremy Ware
Etowah - Kaylee Fore and Adam Cox
Gadsden City High School – Anshumah Sinha, Bailey Cook, Neel Sengar and Madison Abernathy
Gaston – Caydance Glenn and Taylor Tindall
Glencoe - Jacob Bradley and Andrew Lang
Hokes Bluff – Reagan Sims and Austin Burchfield
Sardis – Kolby Childers and Grace Snead
Southside – Kaleigh Pylant and Levi Cox
West End –  Bruce Evans and Alexandria Hallmark
Westbrook – Barclay Bellew and Sam Blackstock
Jacksonville State University was proud to host these outstanding students during the program and hopes to see them in the future as Gamecocks! 
Photos (top right and bottom right): Hopwood addresses the students at the Center for Applied Forensics (courtesy Hopwood/Center for Applied Forensics).