JSU Fields Schools Offer Zombie Emergency Response Training
JSU Fields Schools Offer Zombie Emergency Response Training
01/20/2015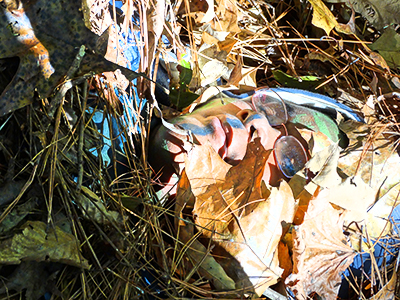 (courtesy, JSU Field Schools)
"You have been chosen because you are the brightest, most creative, powerful thinkers in Calhoun County!" shouts Sergeant Benefield as he greets 50 Calhoun County Gifted Program 7th and 8th grade students brought to the JSU Mountain Center for a JSU Field Schools' Experiential Learning Field Trip.
After Sergeant Benefield reviews safety rules, Commander Otter (Renee Morrison, JSU Field Schools' Assistant Director) steps up to welcome the group of students. "Welcome ZERO recruits," Morrison says. "You have entered a secure location. Not only is this location an EMA site, it is a JSU top-secret ZERO Training Facility. Today you will be trained and certified in zombie evasion and survival skills. You will visit four educational stations to master these skills. These include Water Filtration/First Aid, Shelter Building, How NOT to Be Found (Camo), and Primitive Fire/Trapping Techniques." 
Commander Otter introduces the ZERO Team: Commander Wolf (Teje Sult, JSU Technology Department), Commander Chameleon (Dr. Allison McElroy Benefield, JSU Art Department), Doctor Cajun (Dr. Jim Rayburn, JSU Biology Department), Commander Bear (Mandy Pearson, JSU Biology Grad Student), and Commander Buck (William Johnston, Local Hunting/Fire Safety Specialist). 
The students divide into four groups, elect a captain and are given a backpack filled with an odd assortment of "survival" items including a rubber duck, teddy bear, and sock. Excitement and energy fill the atmosphere around these "recruit teams" as they delve into a field trip filled with problem solving, mental challenges, art merging with science and educational FUN!
"Inventory your items," requests Dr. Cajun. "What items could you utilize to make a multi-level water filter?" Quickly the students rummage through their backpacks and discover the teddy bear that has "stuffing" that makes a perfect mid-layer filter. 
When a team arrives at the "How Not to Be Found" station, they first have to find the previous team hidden in the trees, under the pine straw and behind bushes. Commander Chameleon  explains how to offset their features by using camouflage makeup, leaf litter and other natural materials. 
"This program is awesome on so many levels," said Morrison. "To develop this program we merged the hot topic of zombies with environmental education, outdoor recreation, place-based learning, arts and sciences applications, technology, and nursing with an emergency management twist. We are able to connect these students with samples of what they may decide to study when they attend JSU."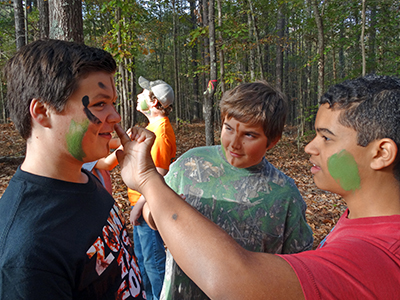 Calhoun County Gifted Program teacher John Moore said in an email to Morrison, "You and your staff did an awesome job!  Our kids thoroughly enjoyed it. Each instructor did an excellent job instructing the students in their area and the kids went home talking about it being the greatest field trip ever! We look forward to more adventures with you and your team!"
After posting the Calhoun County field trip photos on the JSU Field Schools Facebook page, Morrison said she has received seven other requests for similar field trips. 
"When our Facebook friends heard about this awesome program, we also received a great demand for a Saturday ZERO Camp program," Morrison said, "So we are offering a ZERO Camp on Saturday January 24, 2015 at the Cleburne County Mountain Center. The fee is $15 per person. There will be a van shuttle from JSU in case JSU students would like to participate." 
To find out more about the 400+ programs offered annually through JSU Field Schools, visit www.jsu.edu/epic or email fieldschool@jsu.edu.