Glow Dash 5k Raises Money for St. Jude Children's Research Hospital
Glow Dash 5k Raises Money for St. Jude Children's Research Hospital
12/17/2014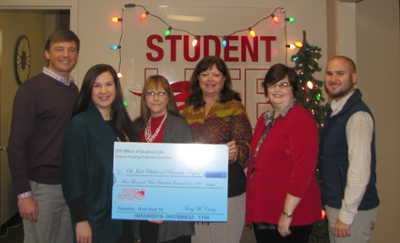 The JSU Office of Student Life and the Summer Reading Program Committee are excited to announce a $4,910.10 donation to St. Jude Children's Research Hospital. The money donated was raised by participants of the JSU Glow Dash 5K held on campus on Aug. 23.
The 5K celebrated the Summer Reading Program's 2014 selection, "The Fault in Our Stars" by John Green, which chronicles the relationship of two young adults battling cancer. The JSU Glow Dash allowed JSU students, faculty, and staff, as well as the Jacksonville and northeast Alabama communities, to put action to the themes of the book.
The JSU Summer Reading Program is designed to unite the freshman class through discussion and actions on a variety of relevant topics brought up by the text. For 2015, the chosen summer reading book is Wild by Cheryl Strayed. For more information on the JSU Summer Reading Program, please click here. 
Photo: JSU Student life and Summer Reading Program presents check to St. Jude Children's Research Hospital. (Josh Robinson/Office of Student Life)