Oxford High School to Join Encore! Show Choir in November 21 Fall Concert
Oxford High School to Join Encore! Show Choir in November 21 Fall Concert
11/19/2014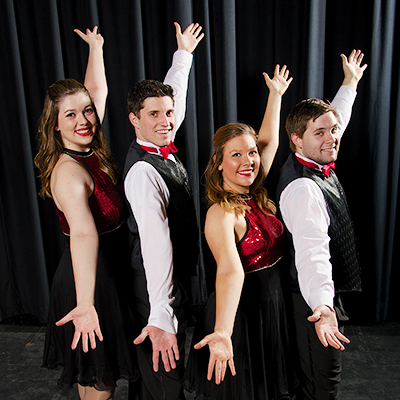 JSU's Encore! Show Choir recently celebrated 25 years of performing. (Steve Latham/JSU)
On Friday, November 21, 2014 at 7:30 p.m. the Jacksonville State University Show Choir Encore! will present its Fall Concert in the Mason Hall performance center on the JSU campus. The Oxford High School Show Choir under the direction of Mrs. Holly Luke, an alumnus of JSU and Encore!, will also be featured on the program.

Encore! celebrated its 25th year anniversary last year and continues to entertain audiences through song and dance. Recently the ensemble performed in Tubaween, for JSU's homecoming and toured Cherokee County schools. This year's show celebrates the American Variety Show. Broadway, movie and TV selections are featured.

The concert is free and open to the general public.