JSU Presidential Search, Screening Committee Chosen
JSU Presidential Search, Screening Committee Chosen
09/24/2014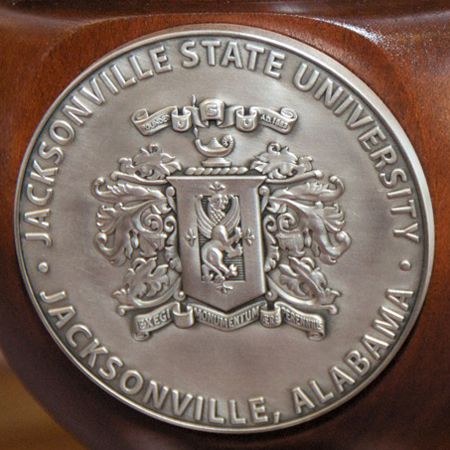 The Jacksonville State University Board of Trustees has taken the first step toward finding the university's twelfth president.
Earlier this week, JSU Board of Trustees Chair and Alabama Secretary of State Jim Bennett sent letters to the twelve individuals selected to serve on the presidential search and screening committee. Among those listed is JSU trustee Ronnie Smith, chair of the building and finance committee and former regional vice president for Alabama Power Company, who will chair the committee.
Other members include: 
Allyson Barker, acting vice president, JSU Administrative and Business Affairs;
Greg Brown, president, JSU Foundation;
Clarence Daugette III, JSU trustee;
Thomas W. Dedrick Sr., JSU trustee;
Bill Fielding, dean, JSU College of Commerce and Business Administration;
Brett Johnson, president, JSU Student Government Association;
Randall Earlie Jones, JSU trustee;
Gale Saxon Main, JSU trustee;
Julia Segars, regional vice president for Alabama Power Company and past president, JSU Foundation Board;
Melanie Wallace, JSU Faculty Senate president and assistant professor; and
Edgar Welden, Birmingham businessman.
Now that the committee has been assembled, the Board of Trustees will identify a national search firm to assist in the process. According to Bennett, the majority of the committee's meetings and work will occur after January 2015. The goal is to recommend candidates to the board in March 2015 so that campus interviews and selection can take place in time to announce the new president at the board's April 20, 2015 meeting. 
JSU's current president, Dr. William A. Meehan, announced his retirement effective July 1, 2015 at the July 21, 2014 board meeting. He is the third longest serving president in the university's history. Among the accomplishments of the Meehan administration are JSU's move to a doctoral granting university, the institution's first strategic plan, the largest graduating classes in JSU history, higher admissions standards, increased scholarships and 58 conference championships in sports.
The public will be kept informed of the presidential search process through the university's website, www.jsu.edu.