Jacksonville State University Announces 2014 Homecoming Schedule
Jacksonville State University Announces 2014 Homecoming Schedule
09/26/2014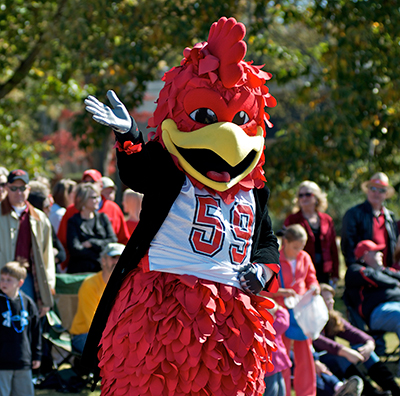 Cocky entertains the crowd at the JSU Homecoming parade.
Jacksonville State University welcomes alumni, students, families and friends to the "Gem of the Hills" for Homecoming, October 30 - November 2, 2014. The Gamecocks will play the Austin Peay Governors in the homecoming game on November 1. The theme for this Homecoming is "Ax Austin Peay."
Guests attending Homecoming are invited to bring their tailgate parties to the green space in front of Kennamer Hall and make a daylong visit to campus. Also important to the homecoming experience this year— the annual homecoming parade at 11 a.m. and the Gamecock Walk, which will begin at 12:45 p.m. near the west end of Stadium Tower. Plan to greet the team and show your support as they make their way from Stadium Tower past Dillon Field and into the Field House. Kickoff for the game will be 3 p.m. Presentation of the homecoming court, recognition of the Alumni of the Year and performances by the Marching Southerners and Ballerinas will highlight the halftime show. 
Tickets to the game will be available at the Stadium 1 ½ hours before kickoff and can also be bought in advance at the campus bookstore and the Jacksonville Bookstore on Mountain Street. Fans can also avoid the lines at the ticket booths by purchasing in advance on www.jsugamecocksports.com and printing their tickets at home. The online, print at home general admission ticket price is $10; tickets purchased on campus are $15 for general admission.
Don't forget to stop by the bookstore while on campus and purchase a commemorative homecoming t-shirt. 
We look forward to having you at JSU!
Below is a complete list of homecoming activities. 
Homecoming and Family Day Schedule of Events
Wednesday, October 15
7 p.m.             Homecoming Pageant, Leone Cole Auditorium
Thursday, October 23
12:01 a.m.      Homecoming Election for King/Queen Homecoming Court (online)
5 p.m.
Tuesday, October 28
4:30-7 p.m.     Harvest Festival, Quad
Wednesday, October 29
11 a.m.-         J-Day, Theron Montgomery Building Lawn
4 p.m.

Thursday, October 30
12:01 a.m.      Homecoming Election for King/Queen Homecoming Court (online)
5 p.m.
6 p.m.             Calhoun County Alumni Wine Tasting
8 p.m.             Homecoming Pep Rally, JSU Stadium
Friday, October 31
9 a.m.-           JSU A Cappella Choir Fundraiser Book Sale, Mason Hall
2 p.m.
Noon              Class of 1964 50th Year Class Reunion, 11th floor, Houston Cole Library
1:30 p.m.       Departmental Door Judging
5 p.m.            Sixties Group Alumni Dinner, McClellan Medical Mall Business Center
6 p.m.            ROTC Annual Alumni Banquet, 11th floor, Houston Cole Library
                     1985 National Championship Basketball Team 30-Year Reunion, 12th floor, Houston Cole Library
7 p.m.            NPHC Step Show, Leone Cole Auditorium, $10 in advance, $15 at the door
Saturday, November 1
8 a.m.            SGA Tailgate Opens, Dillon Field
8:30 a.m.       '55 Football Team Reunion Breakfast, Alumni House
9 a.m.            Alumni House Open to All Alumni, Family and Friends
9 a.m.-           JSU A Cappella Choir Fundraiser Book Sale, Alumni House
2 p.m.
9 a.m.-           Family Day Activities, TMB Lawn
2:30 p.m.
9:30 a.m.       President's Open House
10 a.m.          Planetarium Show, Martin  Hall, 2nd floor
10 a.m.          JSU Encore Show Choir, Gospel Choir Combined Performance, Mason Hall Performance Center
11 a.m.          Parade
11 a.m.          Hispanic Health Fair
11:30 a.m.-    Departmental Open Houses
2:30 p.m.       CCBA- Merrill Building, Communications- Self Hall,
                     Art Department- Gladys Carlisle Building, JSU Parent Association
                     for Undecided Students and the National Society of Collegiate Scholars-
                     TMB Front Lawn
noon-1 p.m.  Alumni Association Meeting, TMB  Auditorium (Open to all alumni)
1-3 p.m.       Ocean Street Concert, Dillon Field
3 p.m.          JSU vs. Austin Peay kickoff
Halftime       Alumni of the Year, Homecoming Court Recognition, Southerners Perform
Sunday, November 2
2 p.m.             UN Day Tea, International House
Homecoming Reunion Information
ROTC ELC Reunion, 1978-1983
Friday, October 31 – Saturday, November 1
ELC's are encouraged to contact Gene Wisdom for more information at finz2night2003@yahoo.com
Sixties Group Alumni Dinner
Friday, October 31
5 p.m. Check In
5:30 p.m. Dinner
Casual Dress, $15/person (payable to W.E. Connell)
ROTC Alumni Banquet
Friday, October 31
6 p.m. Social, 6:30 p.m. Dinner
Casual Dress, $25/person (Please make checks payable to the JSU Foundation)
Contact Chapter President Col. Chuck Buxton, cbuxton@cdc.gov;  or Chapter Secretary, Joe Serviss, JoeServiss@aol.com
Class of '64 50th "Golden Gamecock" Reunion
Friday, October 31
Noon Lunch
Business Casual Dress
Criminal Justice Reception
Saturday, November 1
8:30 a.m., Anders Round House on the Quad
Casual Dress
'55 Football Team Reunion Breakfast
Saturday, November 1
8:30 a.m., Alumni House
To register for Homecoming events, visit www.jsu.edu/giving