JSU Confers 549 Degrees in Fall Ceremonies
JSU Confers 549 Degrees in Fall Ceremonies
12/17/2013
Five hundred forty-nine received degrees during Jacksonville State University's Fall 2013 Commencement exercises on Friday, December 13 at Pete Mathews Coliseum.
Graduating Summa Cum Laude and leading the class were top graduates Abbie Lynn Lett of Lineville, who earned a Bachelor of Science in Exercise Science and Wellness; Reuben Jacob Malone of Fort Payne, who earned a Bachelor of Arts in History; Melody Ross Salter of Pleasant Grove, who earned a Bachelor of Science in Nursing; and Tiffany Diane Smith of Boaz, who earned a Bachelor of Science in Education. 
The faculty led the processional and University President Dr. William A. Meehan presented the degrees.
Commencement speaker was Mr. Jim Bennett, Alabama Secretary of State and JSU Board of Trustees chairman. 
JSU also awarded Emeriti designation to Dr. Donna Herring, Dr. Harvey Jackson, Dr. Sarah Latham, Dr. John Merriman and Mr. Pat Shaddix.
The commencement was televised on WEAC-TV24 (local Cable One channel 9). It was also streamed live on the internet and remains available for online viewing here.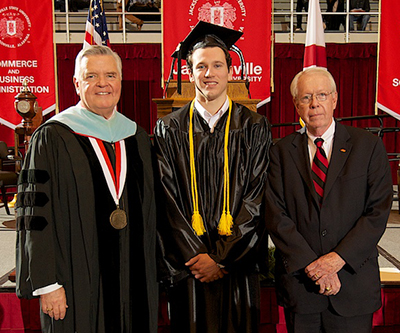 Top graduate Reuben Jacob Malone (center), with JSU President Dr. Bill Meehan (left) and Secretary of State and JSU Trustees Chair Jim Bennett (right). (Matt Reynolds/JSU)
JSU President Dr. Bill Meehan with top graduates (from left) Melody Salter, Tiffany Smith, and Abbie Lett. (Matt Reynolds/JSU)