Jacksonville State University Nursing Students Score Above National Average on NCLEX-RN
Jacksonville State University Nursing Students Score Above National Average on NCLEX-RN
11/21/2013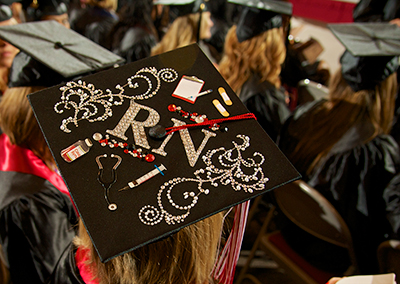 Despite a tougher test and higher standards that translated into lower passage rates for many nursing programs nationwide, Jacksonville State University's students scored higher on the NCLEX-RN licensing exam this year than the national average.
JSU's College of Nursing reports a passage rate of 85.6 percent, which surpassed the average 83 percent pass rate for first-time test takers in the United States between April and June 2013. JSU's Summer 2013 graduates did even better, scoring a passing rate average of 89 percent. This is a significant increase when compared to pass rates of 83 percent and 86 percent in Spring and Summer 2012, respectively.
In April 2013, the National Council of State Boards of Nursing (NCSBN) implemented the revised test plan and change in passing standard for the NCLEX-RN. Due to the higher standards, the NCSBN projected a 3-5 percent decrease in the passing rate for those taking the NCLEX-RN for the first time. As a result, many nursing programs have seen a decrease in their NCLEX-RN passage rates. The national first-time pass rate average decline to 83 percent between April and June 2013 reflects a 9.74 percent decrease from the previous quarter.
The Alabama Board of Nursing reports NCLEX-RN passage rates, based on a three-year rolling average. 
In addition to a NCLEX-RN passage rate above the national average without a substantial dip in scores, as many other colleges and universities are experiencing, the JSU CON graduation rate for the Fall 2010 entering cohort was calculated at 96.3 percent. 
Dr. Christie Shelton, Dean of the College of Nursing, and Dr. Betsy Gulledge, BSN Program Director, can identify a number of variables that may have contributed to the graduation and NCLEX-RN rate success. Dr. Shelton believes that faculty development and retention of faculty have been significant in this achievement. Dr. Gulledge feels the incorporation of best practices in teaching and maintaining a rigorous, but student-centered program have also contributed to this accomplishment.
"Maintaining an acceptable passage rate in light of an increased passing standard with the NCLEX-RN is very encouraging," said Dr. Shelton. "Such results indicated that students at JSU CON were prepared better than many across the nation, as evidenced by the increased passage rate. The JSU CON continues to forge ahead with innovative and dynamic teaching methods in order to create a truly student-centered learning environment. In a time of uncertainty in the healthcare environment, the JSU CON is committed to their vision of 'Empowering exemplary nurses to care for anyone, anytime, anywhere.'"
Jacksonville State University's Lurleen B. Wallace College of Nursing delivers three programs- the traditional BSN, the RN to BSN (STEP), and the MSN. Both the STEP and MSN degrees are available online. A graduate certificate in nursing education is also offered. JSU's College of Nursing is accredited by the Commission on Collegiate Nursing Education (CCNE) and is approved by the Alabama Board of Nursing. For more information, visit http://www.jsu.edu/nursing.
Photo: A JSU nursing graduate proudly displays her achievement on her mortarboard. (Steve Latham/JSU)