POSTPONED- Jacksonville Opera Theatre to Present Preview Performances of "The Frog Prince" Nov. 8-9
10/23/2013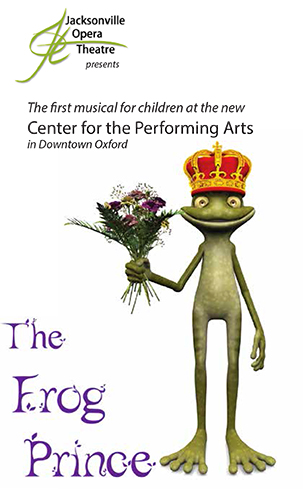 UPDATED- November 6, 2013-- This event has been postponed until January 25, 2014.
Jacksonville Opera Theatre will present preview performances of the original opera "The Frog Prince" on November 8-9 in the Performance Center of Jacksonville State University's Mason Hall, both at 7:30 p.m.  The book and lyrics were written by Melanie Martin Long of Kennesaw State University in Kennesaw, Georgia.  Original music was composed by Jacksonville State University music professor Dr. James Woodward. The children's opera features 12 seasoned JSU students, all ready to bring the story of the famous Grimm's Fairy tale to life.
"The Frog Prince" is a brand-new musical written specifically for children, but adults will enjoy the Disney-like quality of the music, as well.  Performances for school children will be in January in Oxford at the new performing arts center and in Gadsden at Wallace Hall. Performances mark the beginning of the 10th anniversary season of Jacksonville Opera Theatre.
Join us for a fantastical journey taken by a prince who has been cursed to live as a frog.    The only way for the spell to be broken is for a princess to fall in love with him.  The end of his seven-year curse is coming to an end.  Will he find true love in time?  Come find out!
Tickets will be reduced for the preview performances from regular price to $5.  For tickets, call 1-800-838-3006 or order online at www.JacksonvilleOpera.Org. 
CAST LIST
Iron Henry – Daniel Machen – Birmingham, AL
Princess Alaina – Debra Matua – Washington DC
Jonathan, The Frog Prince – LaRue Bowman – Temple, GA
Princess Antoinette – Emma Jensen – Wellington, AL
Princess Augusta – Ellen Abney – Tallapoosa, GA
Tarleton the Jester – Cody Hays – Centre, AL
King Norbert – Macon Prickett – Wellington, AL
Witch – Tara Patterson – Pembroke Pines, FL
Footmen – Matthew Palmer – Dallas Bedford – Weaver, AL
Ladies in Waiting – Madison Baldwin – Ft. Payne, AL;  Lacy Taylor – Rome, GA