RMC and JSU-- Working Together Toward a Healthier University
RMC and JSU-- Working Together Toward a Healthier University
08/22/2013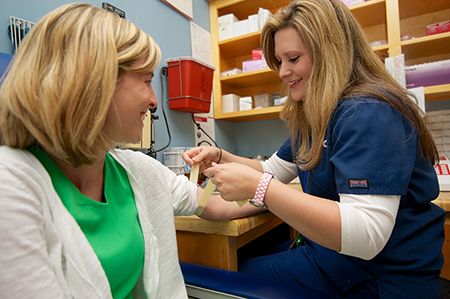 JSU has partnered with Regional Medical Center to provide professional medical services and management for the Health Center. RMC's goal is to ensure that you have access to high-quality, patient focused health care that is delivered with compassion and a great degree of professionalism. We will strive to exceed your expectations during your visit and welcome any comments that you may have regarding your care.
RMC operates an 89-bed full-service hospital in the city of Jacksonville as well as a 338-bed tertiary care hospital in Anniston. In addition to the two hospitals, RMC operates a network of physician clinics and urgent care centers within close proximity of the JSU campus, several of which are accessible via the Gamecock Express. 
We understand that our customers have the option of seeking medical care elsewhere. Being aware of that, we are committed to providing quality care that is convenient, caring and "close to home." Our primary mission is to ensure that your experience is a pleasant one, and should you need care in the future, you will choose our Health Center to take care of your needs. The ultimate measure of our success is your satisfaction. To that end, we have carefully chosen a team of professionals and support staff that is committed to delivering the personalized care that you want and deserve.
The RMC University Health Center will offer a full-time Primary Care Physician, Dr. Bilqees Fatim. Having a full-time physician on site has allowed for extended hours.
Operating Hours are:
Monday – Thursday 8:00 am – 4:30 pm
Friday 8:00 am – 2:00 pm
Services Offered:
Primary Care                                                 Health Fairs
Urgent Care                                                   Wellness Checkups
Women's Health Needs                                Physicals
Men's Health Needs                                      Immunizations
Mental Health Screenings                            Lab Testing
Radiology Services (off site)                         Medication Management
Rehab Services (off site)                              Flu Shots
STD Testing                                                   Tuberculosis Screening
Allergy Shots                                                  Pregnancy Testing
The RMC University Health Center will also offer Outreach Programs for any organization or group wanting educational materials and/or a public speaker.
RMC…Helping Gamecocks Take Care!