JSU Faculty, Staff and Administrators Attend 2013 IDEA Workshop
JSU Faculty, Staff and Administrators Attend 2013 IDEA Workshop
05/31/2013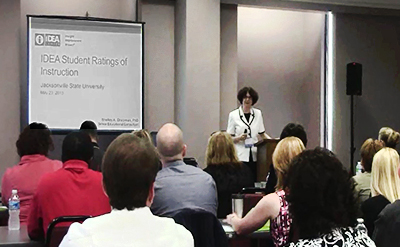 Fifty-two JSU faculty, staff, and administrators attended an all day 2013 IDEA Workshop led by Dr. Shelley Chapman, a Senior Educational Consultant from The IDEA Center on Thursday, May 23. The workshop was held on the 11th floor of Houston Cole Library and sponsored by the Office of Planning and Research (OPR) and the JSU Assessment Sub-Committee.
Dr. Chapman helped attendees better understand the meaning and purpose of the Faculty Information Form. She offered tips for interpreting the data presented in individual and group summary reports. In addition, she described how to use the results for assessment and accreditation and for faculty development planning.
The video recordings of Dr. Chapman's presentations and the PowerPoint slides will be posted on the OPR website when they become available. For information about their availability, please email Tienhan Ma or call 256 782-5109.
Photo: Dr. Shelley Chapman speaks to participating JSU faculty, staff and administrators (courtesy)