JSU Drama Presents 'Brigadoon' Feb 21 - Mar 3
JSU Drama Presents 'Brigadoon' Feb 21 - Mar 3
02/14/2013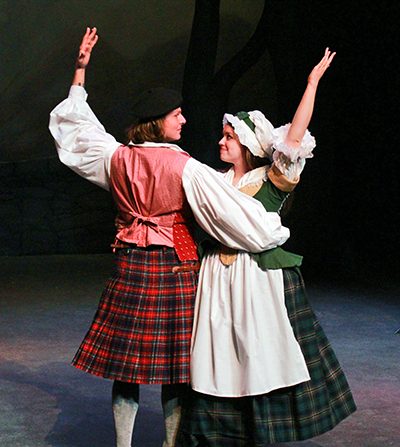 Jacksonville State University department of Drama is proud to present "BRIGADOON," February 21 - March 3 at the Ernest Stone Performing Arts Center Theatre.
From the writers of My Fair Lady comes the lovely Scottish fantasy of two hunters who stumble upon a mystical town that disappears and reappears for one day every hundred years. Alan Jay Lerner and Frederick Loewe won acclaim for this romantic musical that features the songs "Come to Me, Bend to Me," "Almost Like Being in Love," and "The Heather on the Hill," sung amidst a backdrop of the misty Scottish highlands.  The JSU production is resplendent with authentic Scottish dances, tartans and kilts, and a talented cast made up of students from all over campus, including the Drama and Music departments.  Please join us for this beautiful story of love, magic, and faith in the impossible!
Directed by Eric Traynor
Choreography by Thomas Dewayne Barrett
Musical Direction by Jeremy Stovall and Eric Traynor
PERFORMANCE TIME AND DATES
February 21-23 at 7 p.m.
February 24 at 2 p.m.
February 28-March 2 at 7 p.m.
March 3 at 2 p.m.
TICKET PRICES
$10 for Students and Military
$12 for JSU Faculty/Staff and Senior Citizens
$15 for Adults
For reservations, please call (256)782-5648.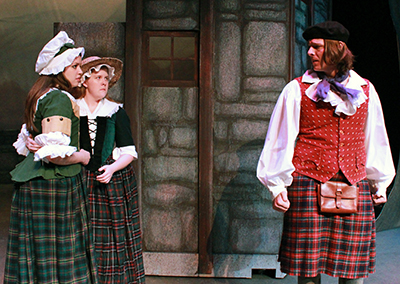 From left, Madison Baldwin as Jean MacLaren, Meg Griffin as Fiona MacLaren and Adam Pickren as Harry Beaton in JSU's upcoming production of 'Brigadoon.' (Randal Blades/JSU Drama photo)
Top photo, Madison Baldwin and Adam Pickren in 'Brigadoon.' (Randal Blades/JSU Drama photo)