JSU Accepting GO! Leader Applications
JSU Accepting GO! Leader Applications
09/24/2012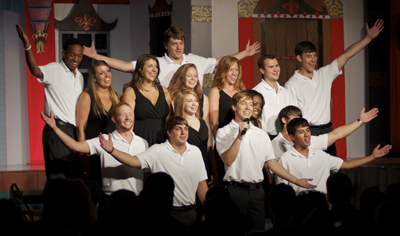 For incoming freshmen, they are among the first faces seen on campus. Positive and upbeat about the whole JSU experience, they introduce new students to their home away from home for the next four years. They are JSU GO! Leaders, and they are recruiting!
The Office of Student Life is accepting applications through October 17 for 2013 GO! Leaders. 
To be a GO! Leader one must have:
24+ credit hours at Jax State;
Completed one full academic year at JSU;
A positive attitude;
An Outgoing Personality;
Team Player;
Self-Motivated;
Complete a training course during spring semester.
If you think you have what it takes to be a GO! Leader, swing by the Office of Student Life, Room 402 Theron Montgomery Building, and pick up your application.
For more information, email goleader13@yahoo.com or call ext. 8054.
Photo: GO! Leaders perform during summer orientation (Matt Reynolds/JSU photo)