Three Inducted Into JSU Teacher Hall of Fame
Three Inducted Into JSU Teacher Hall of Fame
05/29/2012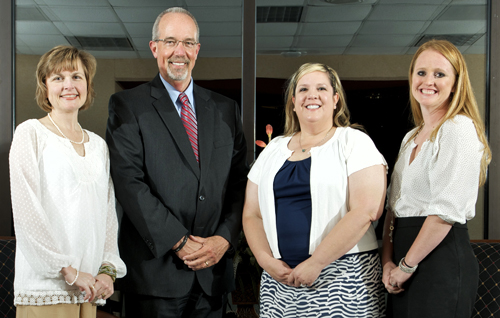 Above: Dr. Thomas Bice, Alabama State Superintendent of Education, second from left, stands with this year's JSU Teacher Hall of Fame inductees (from left) Katherine Pickens, Stephanie Matthews, and Katie Oliver. (Matt Reynolds/JSU)
The annual Jacksonville State University Teacher Hall of Fame award banquet was held on May 11, 2012. New inductees include Ms. Katie Oliver from Memorial Park School of the Jasper City School System in Jasper, in the Elementary Division; Ms. Katherine Pickens from Greenville Middle School of the Butler County School System in Greenville, in the Middle School Division; and Ms. Stephanie Matthews of White Plains High School of the Calhoun County School System in White Plains, in the Secondary Division. 
The banquet speaker was Dr. Thomas Bice, Alabama State Superintendent of Education. Dr. Kelly Ryan, state chairperson of the JSU Teacher Hall of Fame, introduced the speaker. During his remarks, Dr. Bice praised the work and success of the teachers present at the induction ceremony and shared his thoughts about the public education system in Alabama. He offered that he was willing to look at reviewing, changing, or expanding existing SDE programs if it was in the interest of the children served, and expressed support for innovation and flexibility in public school programs.
Dr. Rebecca O. Turner, provost and vice president for academic and student affairs at JSU, congratulated the inductees and presented the awards. Mr. Jerry Burfitt, President of the Scottish Rite Foundation, also recognized the inductees.