JSU Drama to Present "The Syringa Tree" April 12-15
JSU Drama to Present "The Syringa Tree" April 12-15
04/06/2012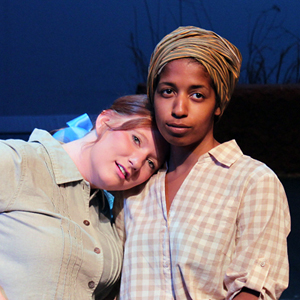 The Jacksonville State University Drama Department will present The Syringa Tree by Pamela Gien on April 12-15 at the Ernest Stone Performing Arts Center.
The Syringa Tree is a personal, deeply evocative story of an abiding love between two families, one black, one white, and the two children that are born into their shared household in the early 1960's South Africa. Seen first through the eyes of a child, six-year old Elizabeth Grace, as she tries with humor and sometimes palpable fear, to make sense of the chaos, magic and darkness of Africa, we follow their destinies in a story that spans four generations, from early apartheid to the present day free South Africa.
This production is directed by Alexandra Hooper.
Evening performances are Thursday-Saturday, April 12-14 at 7 p.m. The Sunday, April 15 matinee is at 2 p.m.
Tickets are $10 for adults, $8 for senior citizens and JSU personnel, and $5 for students, children, and military.
To order tickets, please phone the JSU Drama Box Office at 256-782-5648.
About the photo: Erin Mahaffey, left, and Merideth Huntley, right, in The Syringa Tree (Randal Blades/JSU Drama Dept.)