JSU's Renee Morrison is New President of State Environmental Education Association
JSU's Renee Morrison is New President of State Environmental Education Association
03/23/2012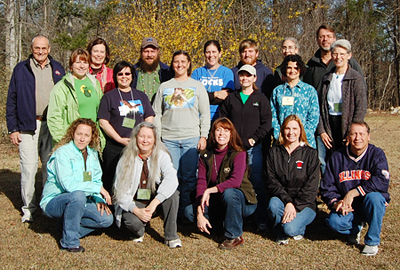 Renee S. Morrison, Coordinator of JSU Field Schools, was elected president of the Environmental Education Association of Alabama (EEAA) for the 2012-13 year. Her focus will be on environmental literacy for Alabama K-12 students. She is serving on a task force in partnership with Dr. Tommy Bice, superintendent, Alabama Department of Education, to create a "best practices in environmental education" plan. If approved and implemented, this plan will make incorporation of environmental education into the curriculum easy. The plan is being developed to serve all learners and to enhance methods of teaching science, mathematics, language arts, social studies and the arts.
Morrison says the Campaign for Environmental Literacy states: "When integrated into the core curricula or used as an integrating theme across the curriculum, environmental education has a measurably positive impact not only on student achievement in science, but also in reading (sometimes spectacularly), math, and social studies. The same study found that schools that taught the core subjects using the environment as an integrating context also demonstrated reduced discipline and classroom management problems, increased engagement and enthusiasm for learning, and greater student pride and ownership in accomplishments."
Even more important for many, environmental education employs and enhances critical thinking and basic life skills. The National Science Board of the National Science Foundation confirmed the importance of environmental education to student learning in their 2000 report, Environmental Science and Engineering for the 21st Century:  "The twin goals of learning are to acquire knowledge and gain skills such as problem solving, consensus building, information management, communication, and critical and creative thinking. Environmental issues offer excellent vehicles for developing and exercising many of these skills using a systems approach…changes should be made in the formal educational system to help all students, educators, and educational administrators learn about the environment, the economy, and social equity as they relate to all academic disciplines and their daily lives."
The 2012 EEAA Conference themed "Reading Rocks!" was held at Camp McDowell Environmental Center in Winston County. Over 100 Alabama teachers attended the three-day program. Morrison is busy planning the 2013 EEAA Conference themed "Snails, Trails and Canyon Tales" for the JSU Little River Canyon Center and EE partner DeSoto State Park in DeKalb County. She anticipates an even higher number of participants from Alabama and several other states since EEAA is partnering with Kentucky Association for Environmental Education to present the first Southeastern Environmental Education Association in September.
For more information about EEAA visit www.eeaa.us and for more information about JSU Field Schools visit www.jsu.edu/epic . To communicate with Renee, email rmorrison@jsu.edu or call 256-782-5697.
About the photo: The 2012-2013 EEAA board consists of, front row- Anna Bryant, Shirley Farrell, Renee Morrison (President), Christina Turner, Nicholas Bourke. Second row- Helena Uber-Wamble (Secretary), Norma Lewis, Vicky Smith, Tony Bruner (Membership), Laurie Barrett, Margaret Holler. Third row- Nick Holler (Treasurer), Alma Huston, Jimmy Stiles, Maggie Johnston (Vice President), Jon Nee, Heather Montgomery, Tim Gels. Not pictured- Traci Knight Ingleright, Kelley Feagin, Desiree Bishop, Matthew Miller and Anita Salinas. (courtesy photo)