Annual Education Fair is April 12
Annual Education Fair is April 12
03/22/2012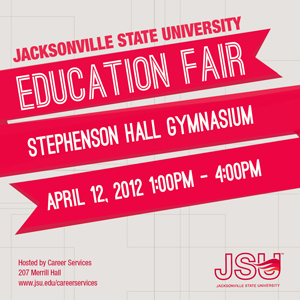 All education majors are encouraged to attend JSU's annual Education Fair on April 12 from 1-4 p.m. in the Stephenson Hall Gymnasium.

This fair is open to all students in education. Job seekers are encouraged to bring copies of résumés, dress professionally and be prepared for interviews on site! Additional résumé copies may be made in the JSU Print Shop (104 TMB) for $.07 each. Résumé editing is available beforehand in Career Services, 207 Merrill Hall. If you're interested in using this service, please schedule an appointment by calling ext. 5482.

A list of participating schools may be viewed on the Career Services website. This list will be updated regularly, so check it often.

This event is hosted by Career Services. For more information, please call ext. 5482 or email troberts@jsu.edu.