Current Events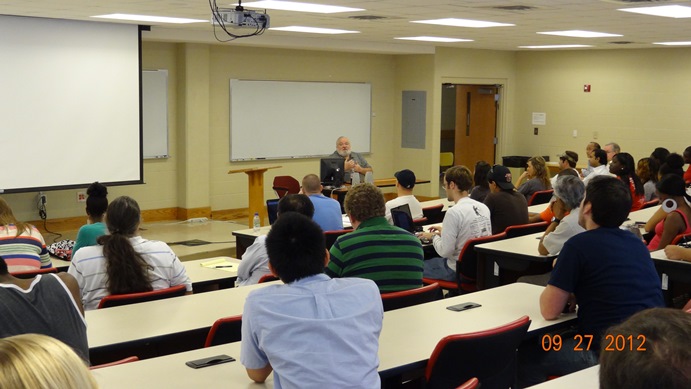 September 2012. The Center for Information Security and Assurance (CISA) at JSU hosted a cybersecurity presentation by Mr. Thomas Madden, Chief Information Security Officer of the Center for Disease Control and Prevention (CDCP) in Atlanta, Georgia. The talk covered new cybersecurity threats and techniques for a successful computer attack. Thomas Madden, CISO and member of the Senior Executive Service, is a JSU double alumnus having earned a B. S. in Business Administration and a M. P. A. in Political Science. Mr. Madden is a recipient of the International Information Systems Security Certification Consortium (ISC2) US Government Information Security Leadership Award's (GISLA) 2006 Special Recognition Award. The GISLA is awarded by the ISC2, the globally recognized gold standard for certifying information security professionals, annually to three federal government employees and is independent of professional certification. He is a nationally recognized expert in developing information security programs and a regular featured speaker at the SecureWorld conference since 2003.

September 2012. The Center for Information Security and Assurance (CISA) at JSU hosted visitors from SMU and LockheedMartin Corporation in September. The discussions with Stephen Papa and William Casper, prominent researchers in SCADA security, are primarily focused on research collaborations, utilization of the Critical Infrastructure Security and Assessment Laboratory, and grant proposal development.

August 2012. The Center for Information Security and Assurance (CISA) at JSU will host visiting research fellows from China and Korea in August-December 2012. Dr. Shenxi Zhou is an Associate Professor of Computer Science at Anhui University of Finance and Economics. Mr. Byung Oh Ahn is an Associate Research Fellow at the Defense Information Division, Center for Defense Acquisition, Korea Institute for Defense Analyses.

June 2012. CISAL Principal Investigators meet with Industry Partners. Industry representatives from Southern Company, Gadsden Waterworks and Sewer, Electric Machine Corporation met with Mr. Terry Marbut and Drs. Guillermo Francia, III, David Thornton, and Nourredine Bekhouche to assess the current needs of the industry with regard to critical infrastructure protection. The discussion also covered the availability of the laboratory for testing and incubation of new technology before deployment in production mode.

May 2012. Dr. Guillermo Francia, III, Professor of Computer Science, visited the Oak Ridge National Laboratory (ORNL) to promote JSU's Center for Information Security and Assurance. The discussions with two Division Leaders and staff members at ORNL are primarily focused on research collaborations, student internships, and summer faculty research experience opportunities. The JSU visiting team also includes Drs. Aaron Garrett and David Thornton of the MCIS Department and Dr. Dana Ingalsbe, Associate Professor of Technology and Engineering.

May 2012. Dr. Risk Lusk, Group Leader of the Computational Sciences and Engineering Division of Oak Ridge National Laboratory visited the CISAL laboratory. Discussions focused on critical infrastructure protection research and also the need to collaborate with the ORNL Cybersecurity group.
CS/CIS Degree Programs Receive National Security Agency Certification
The National Information Assurance Education and Training Program (NIETP), which is administered by the National Security Agency (NSA), has certified JSU's CS and CIS courseware to meet all of the elements of the Committee on National Security Systems (CNSS) National Training Standards for:
Information Systems Security (INFOSEC) Professionals, NSTISSI No. 4011
System Administrators (SA), CNSSI No. 4013 Entry Level
This certification adds a tremendous value to JSU's CS and CIS degrees in that an NSA certificate can now be given to each graduate who completes the set of courseware. In addition, it brings JSU one step closer to being designated as a national Center of Excellence in Information Assurance Education.
The course mapping work was performed during the summer months by Drs. Guillermo Francia, III, Monica Trifas, and Aaron Garrett of the MCIS Department.