Gamecock Service Excellence Program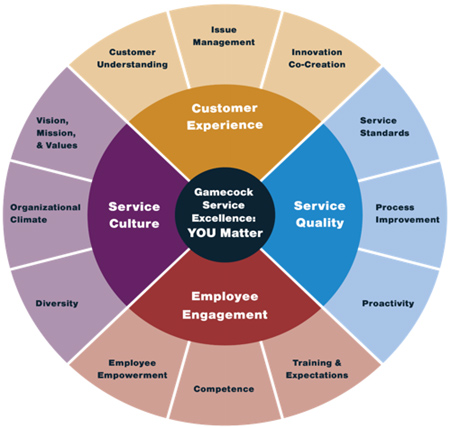 We take pride in JSU and belief we are personally responsible for achieving the University's mission and goals.  We seek opportunities for help our students, visitors, and co-workers.  We are courteous, we respect diversity among our customers, and we show care and compassion by acknowledging people's feelings.

We make a positive impressions with every interaction will all customers.
We strive to exceed our customers' and colleagues' expectations in all we do.
We treat everyone with patience, respect, and courtesy.
We are honest and ethical.
We value and seek to understand different viewpoints.
We smile, make eye contact and greet others in hallways and work settings (greet at 4 feet and smile at 10 feet: the 4/10 rule).
We always wear name badges with name visible.
We introduce ourselves using our name and job title.
We notice if anyone looks lost and help them find their way.
We provide privacy and assure dignity for all.
We maintain a professional appearance and demeanor.
We exemplify teamwork and respectful relationships.
We value each other as individuals.
We anticipate what others need before they ask and freely offer help to others.
We always assume the best and speak positively about our colleagues and our University.
We accept responsibility for our actions and do not blame others.
We are on time, every time.
If we don't have an answer or cannot do something requested, we find the answer or someone who can.
We choose a positive attitude every day.
We maintain positive communication with our students and colleagues.
We keep everyone informed and apologize for any changes and/or delays.
We are timely in our response to students' and colleagues' requests.
We share accurate and complete information.
We make it safe to have open and honest dialogue.
We ask for and give feedback to each other in a timely, direct, and constructive manner.
We use courtesy when on the telephone: 
Answer within 2-3 rings 
Identify our name and department or role
Ask permission before placing a caller on hold
We take responsibility for the experiences our students/customers and colleagues have at JSU.
We welcome feedback to create a culture of continuous improvement.
We use the A4 Approach: 
Acknowledge the situation: "I can see how this has been a difficult situation for you Mrs. Smith." 
Apologize for the situation: "I am so sorry that you have not had a good experience." 
Ask: "How can we make this situation better for you?" 
Act: "This is what I will/can do. Are you comfortable with this?" Then set follow-up expectations.
We are responsible to demonstrating support of the University's strategic plan and strategic objectives.
We take care of our work environment.
We keep our University and campus clean.
We minimize noise that disrupts work spaces, or interrupts our colleagues.
We own and solve problems.
We never say, "It's not my job/student/ customer."
We never discuss confidential information where it can be overheard or with persons not involved with the matter. We never leave names or confidential information in public view.
We create a safe work environment and "Speak Up" whenever we have a safety concern.
Aligning quality services with the developing and sustaining a culture of excellence both for our administrative processes/functions and academic programs
An environment focused on ensuring a great experience inside and outside the classroom, so students, faculty, and staff can focus on being successful
Enabling excellent service to each other ensuring that JSU is positioned to provide excellent service to our students; it creates and recognizes a system positioned for excellent service
Enabling greater work satisfaction, allowing more time to focus on issues that advance the university, and less time on worrying about internal issues
Provide every student with excellence in education, positive college experiences, create and maintain a learning and workplace environment free from harassment and discrimination where students can confidently say that JSU is a great learning environment, and employees can confidently say that JSU is a great place to work.
Build a Supportive Environment That Inspires Excellence In Everything We Do!!
Anyone in our proximity should be treated as a potential customer
JSU employees are talented and capable resources for our students, faculty, each other, and for our community
Employees take pride in their work and, given the right environment, will naturally provide excellent service
Positively impacting our students' total educational experience is of importance to us
An engagement experience should be equally as positive with staff, faculty and community partners
We are here to "help" students with complex processes
Continuous improvement is necessary to make processes less complex
Anyone in our proximity is a customer.  That customer becomes a student at the classroom threshold.
JSU Administrators applaud initiative, transformation and innovation and will empower employees that embrace those goals
Process Improvement: Employees are encouraged to identify processes that could be improved
Empowerment and Support: Employees will be empowered to make decisions and take the necessary steps to ensure excellent service to our customers
Training / Expectations: All current and new employees will participate in Gamecock Service Excellence: You Matter training
Recognition: Employees will be recognized for outstanding service and for their contributions towards improvements
Volunteers are need to participate in piloting the new Gamecock Service Excellence: You Matter program
All employees are encouraged to participate in process improvement activities 

Employees with recommendations for improvement of any processes should submit their recommendations via the HR website.  All information about volunteering will be in the next issue of the HR News and Updates will be will sent out on December 22, 2017
Phase I:     January 3-March 31, 2018
An information series "Customer Service Comes To Higher Education" will be published in the Red and White
Phase II:    April 1, 2018
The Gamecock Service Excellence: You Matter program will Launched with the 1st Pilot
Phase III:   Fall 2018
Training of all current employees; new employees will be introduced to the program during their onboarding
Register for Gamecock Service Excellence: You Matter Training