Freedom Riders Park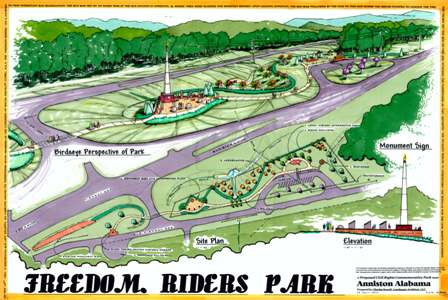 On May 14th, 1961, a Greyhound Bus left Atlanta, GA carrying among its passengers seven members of the Congress of Racial Equality ( CORE), A.K.A. the " Freedom Riders," on a journey to test interstate bus segregation. The bus was met by an angry mob at the bus station in Anniston, AL where tires were slashed and windows broken. Upon leaving Anniston, the bus was followed by the mob to this site where the driver stopped to change the tire. The crowd set the bus on fire and attacked the passengers as they departed. The incident served to strengthen the resolve for the civil rights movement.

It was a horrific event, but if there is opportunity in every crisis, Anniston's response to this incident should be the larger symbol and a shining model for unity and racial healing. According to Morris Dees, co-founder of the Southern Poverty Law Center, the incident and Noble's story " ...show(s) how black and white leaders in one small Southern city determined to work together for peaceful desegregation... rich and uplifting."

Freedom Riders Park will be a place for school groups, heritage tourism and all people who want to learn more and experience the actual place that inspired so many.

On the actual site of the bus burning, Freedom Riders Park will serve as a place for education and reflection. It will emphasize the region's ongoing struggle for civil rights and include several positive and uplifting stories that stemmed from the horrific incident.