Administration
President William A. Meehan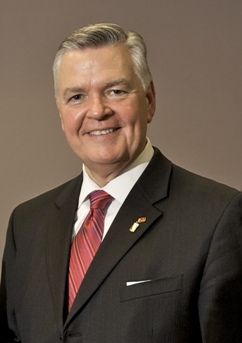 William A. Meehan has a long-term association with Jacksonville State University that began when he enrolled as a first-time freshman in 1968. He completed his Bachelor of Science in biology in 1972 and began a career in education that same year. He earned his Master's of Science degree in biology at Jacksonville State University in December of 1976 and returned in January 1977 to serve as an instructor in the Department of Biology. He completed a Doctorate of Education in the field of higher education administration from the University of Alabama.
Prior to becoming president, Dr. Meehan served in numerous administrative and teaching positions at the University. Among these are Coordinator of Medical Technology Program, Director of Academic Advisement, Assistant Vice President for Academic Affairs, Associate Vice President for Academic and Student Affairs, Acting Vice President for Academic Affairs and Acting Vice President for Institutional Advancement. He assumed the helm as president on July 1, 1999.
Dr. Meehan's expansive vision for JSU includes looking to the future while drawing on the strengths of the past. A top goal is knocking down the walls of the ivory tower through such innovations as distance education. Through the Internet, DVD, and videoconferencing initiatives, the University is able to make a college education more accessible to those who work, or who for other reasons are not able to reside on or near the main campus. Under Dr. Meehan's leadership, JSU is extending classrooms and removing barriers to a college degree.
Administrative Staff
Dr. Rebecca Turner

Provost and Vice President, Academic and Student Affairs

---

Mrs. Allyson Barker

Acting Vice President, Administrative and Business Affairs

---

Dr. Charles Lewis

Vice President, University Advancement

---

Dr. Alicia Simmons

Vice President, Research, Planning and Collaboration

---

Mr. Vinson Houston

Vice President, Information Technology

---

Dr. Joe Delap

Vice Provost and Dean of Graduate Studies

---

Dr. Tim King

Associate Vice President, Enrollment Management and Student Affairs

---

Dr. Joe Walsh

Associate Vice President, Educational Technology and Support


---

Dr. Bill Fielding

Dean, Commerce and Business Administration

---

Mr. John-Bauer Graham

Dean, Library Services

---

Dr. John Hammett

Dean, Education and Professional Studies

---

Dr. Christie Shelton

Dean, Nursing and Health Sciences

---

Dr. J. E. Wade

Dean, Arts and Sciences

---

Mr. Warren Koegel

Athletic Director

---

Mr. Don Killingsworth

Director of Government Relations

---

Director of Internal Audit

---

Mr. Tim Garner

Executive Director, Marketing and Communication

---

Mr. Sam Monk

University Counsel