Society of Professional Journalists (SPJ)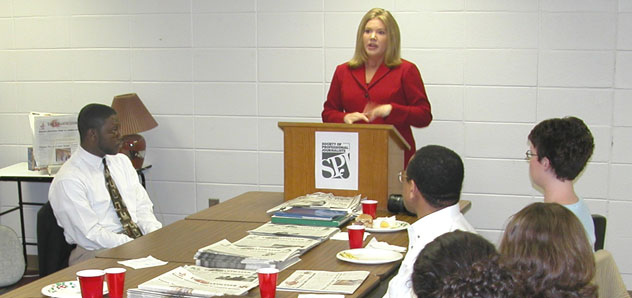 The Society of Professional Journalists (SPJ) is the largest journalism organization in the world. The Society is a not-for-profit, voluntary association with a membership of professionals and students engaged in every area of journalism. Founded in 1909 as Sigma Delta Chi, SPJ is dedicated to encouraging a climate in which journalism can be practiced freely and fully, stimulating high standards and ethical behavior in the practice of journalism and perpetuating a free press.
The JSU student chapter of SPJ was chartered in 1986. Since then, JSU-SPJ has invited a broad range of professionals from all media to speak at chapter meetings. Panel discussions on freedom of information, violence on television and media ethics attract professionals from other fields, such as psychology, education and law enforcement.
Students may be inducted into the JSU-SPJ chapter once a year. Membership is open to any student in good academic standing who is a communication major or minor, or who shows an interest in the profession. The student rate is $45.00 for the induction year, and $35.00 per year thereafter, with an additional two year post-graduate student rate. Here's what you'll get with your membership:
monthly Quill magazine
a membership certificate
professional development meetings and workshops
opportunities to attend regional and national conventions
opportunities to meet, talk and network with professionals
opportunities to meet other communication students
For more information, write:
Department of Communication
Jacksonville State University
700 Pelham Road
Jacksonville, AL 36265
(256) 782-5300
Visit Public Relations Organization page