Occupational Safety and Health Management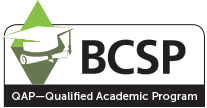 The Occupational Safety and Health Management (OSHM) program at Jacksonville State University is a
Qualified Academic Program
, meaning that required course curriculum has been reviewed by the Board of Certified Safety Professionals and has been found to be a substantial match to the current Associate Safety Professional® (ASP®) examination blueprint. The OSHM program is also accredited by
ATMAE
.

This program is ideal for students with an interest in hazard control technology, fire safety, industrial ergonomics, safety management, systems safety, industrial hygiene, and hazardous materials technology.
safety and health director
safety engineer
safety specialist
safety manager
loss control specialist
environmental specialist
industrial hygienist
ergonomist
OSHA compliance officer
safety trainer
safety inspector
safety auditor
workers compensation program administrator
industrial risk manager
The percentage of students employed within four months of graduation from this program is 100% (5 year average).
For specific information regarding course requirements for this program, please download an audit sheet.
For further information, please contact Dr. Jess Godbey.